Welcome to Fishing Gotland
Fishing Gotland is a project aiming towards establishing a responsible and sustainable angling culture where we together ensure healthy fish stocks and future fishing possibilities. Welcome to Gotland!
Fishing Gotland is initiated by Swedish Anglers Association. Our vision is a sustainable fishery in healthy waters – for everyone.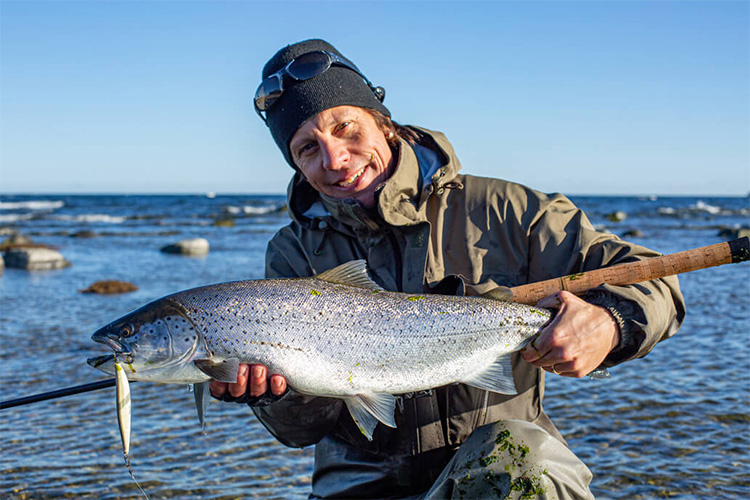 Fishing rules
Angling with a rod, reel and lure is free of charge along the Gotland coast. Coastal fishing for seatrout is permitted all year around but there are 26 protected areas around the coast where all fishing is forbidden during the period October 1st – December 31st.
All protected areas and their geographical range can be found on the website of the County Administrative Board.
Summary of rules for seatrout fishing on Gotland:
– Minimum length for seatrout: 50 cm
– 26 protection areas, all fishing forbidden October 1st – December 31st.
– Fishing is closed all year on Gotska Sandön.
Also remember that:
– Pike and perch are under protection throughout the coastal zone during March 1st – May 31st. Keep limit for pike rest of the year: all pike over 75 cm and under 40 cm must be released. A maximum of three pikes within this size range may be kept.
– The European flounder is protected during February 15th – May 15th.
– Fishing is forbidden in areas with no trespassing, such as bird protection areas during springtime.
Further information can be found on the website of the County Administrative Board.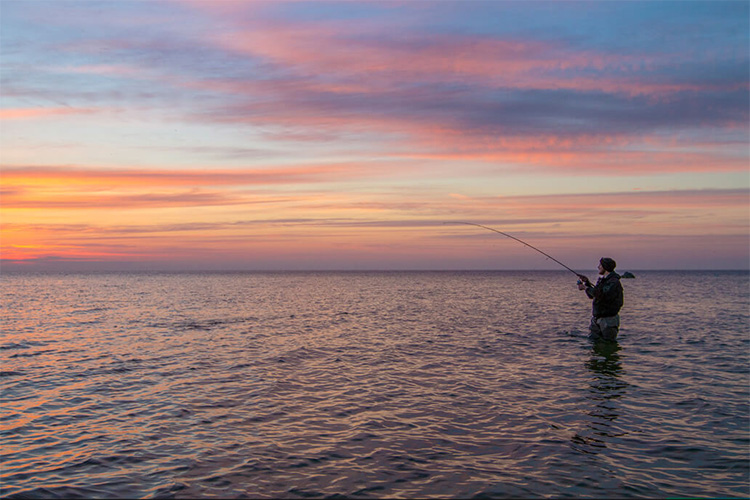 Sportfishing culture – Advise for a better fishing experience
Gotland's coast and exotic scenery combined with the chance to catch large and wild seatrout (anadromous brown trout) attracts many anglers. To preserve this fishery for the future and show consideration to fish, nature and other anglers, there are several rules and laws to follow. In addition to strict rules and regulations a local sportfishing culture has been developed by Swedish Anglers Association in collaboration with fishing clubs and the sportfishing industry on Gotland.
Please read through and consider following advices and feel free to spread them on to your fellow fishing friends. Together we can contribute to a better fishery and a friendly atmosphere on the coast.
– Make sure you have knowledge of- and respect current fishing regulations. Respect forbidden trespassing in bird-protection areas and roads closed to public. Also consider the 'off-road driving act' and the 'right of public access'.
– Keep gladly fish for consumption but please limit your total landings. As a rule of thumb: do not keep more fish than you intend to eat. ¨Colored¨ fish (pre- or post-spawned) should always be returned unharmed.
– Large fish are of extra importance for the rejuvenation of new trout and thus, these shall preferably be released unharmed.
– If you happen to catch a stocked trout (missing adipose fin) or rainbow trout, be happy to keep it. Keep in mind though that minimum length of 50 cm applies for both wild- and stocked trout (does not apply for rainbow trout).
– Handle fish that you intend to release carefully and avoid bringing those fish on to land. Please use a net with rubber-mesh and unhook the fish in the water with a pair of pliers.
– If you want to take photos of a fish which will be released, do it as quickly and carefully as possible while keeping the fish in the water, to minimize the risk of injuring the fish.
– Keep well distance to other anglers and do not go out in front of someone that is already fishing. Please talk to each other to avoid annoyance.
– Keep clean and do not leave trash in nature. Please pick up plastic or other trash that you find washed up along the shore.
Take care, safety first – always, and enjoy fishing!